22nd October 2009

Merlin Equipment Ltd Acquires Smartgauge Electronics and MasterPlex

We are pleased to announce that Merlin Equipment Ltd has acquired Smartgauge Electronics and thus the MasterPlex range of products (effective 22/10/2009).

Merlin Equipment, based in Poole, Dorset are specialists in the design, manufacture and marketing of products and systems that generate, store, distribute and monitor electrical energy in the marine, special vehicle and military vehicle markets.

Merlin's Managing Director James Hortop commented: "The acquisition of Smartgauge Electronics allows us to accelerate the development of several leading edge products the two companies have been jointly working on for some time. It will better enable our key personnel to focus on their individual core strengths. This is the first phase in an exciting, forward looking and long term development program, which will help position our company as a global leader in mobile electrical power management solutions".

Smartgauge's employees including Chris Gibson (Proprietor & Chief Designer) will continue employment with Merlin Equipment.

All enquires regarding Smartgauge products and services should now be directed to Merlin Equipment Ltd.

Please contact:

David Small (Merlin Equipment Ltd) david.small@merlinequipment.com

Merlin Equipment Ltd
Unit 3 & 4, Cabot Business Village
Holyrood Close
Cabot Lane
Poole
Dorset
BH17 7BA

Tel: +44 (0)1202 697979
Fax: +44 (0)1202 691919

www.merlinequipment.com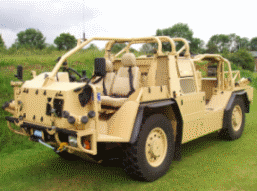 Coming only months after the official launch of MasterPlex, but following many months of development in conjunction with Merlin Equipment and other MOD contractors the Merlin PowerBank has been fitted to the Supacat 'Jackal' range of vehicles.

This is obviously a major success for SmartGauge Electronics and shows again that we are indeed the leaders in our field.

The Merlin PowerBank is a vehicle enhanced version of the MasterPlex System and this particular type is a "militarised" model. The "Militarisation" is carried out by Merlin Equipment's in house engineering team along with overall specification and design of the installation and complete system. Software modifications were carried out by
Smartgauge Electronics following design specification changes agreed between Merlin Equipment, Supacat and Fujitsu.
Smartgauge Electronics would like to thank the Merlin Equipment sales team and also their engineering team with whom we worked very closely to give the MOD exactly what they required for these front line vehicles.
The Merlin PowerBank as being fitted to these vehicles is actually a complete power system solution based on a MasterPlex modified to Merlin's specification and running slightly different software, again specified by Merlin Equipment. The overall system was designed and specified by Merlin's engineering team and the hardware "ruggedized" by them.
The standard MasterPlex diagnostics socket is used and interfaces to a Fujitsu vehicle control and monitoring panel with whom we also worked very closely in order to develop their side of the monitoring software.
Please note that this version of the PowerBank is only available from
Merlin Equipment Ltd
February 2009